vvvvvvvvvvvvvvvvvvvvvvvvvvvvvv

|| Rates || Suites || Rooms || Home ||
vvvvvvvvvvvvvvvvvvvvvvvvvvvvvv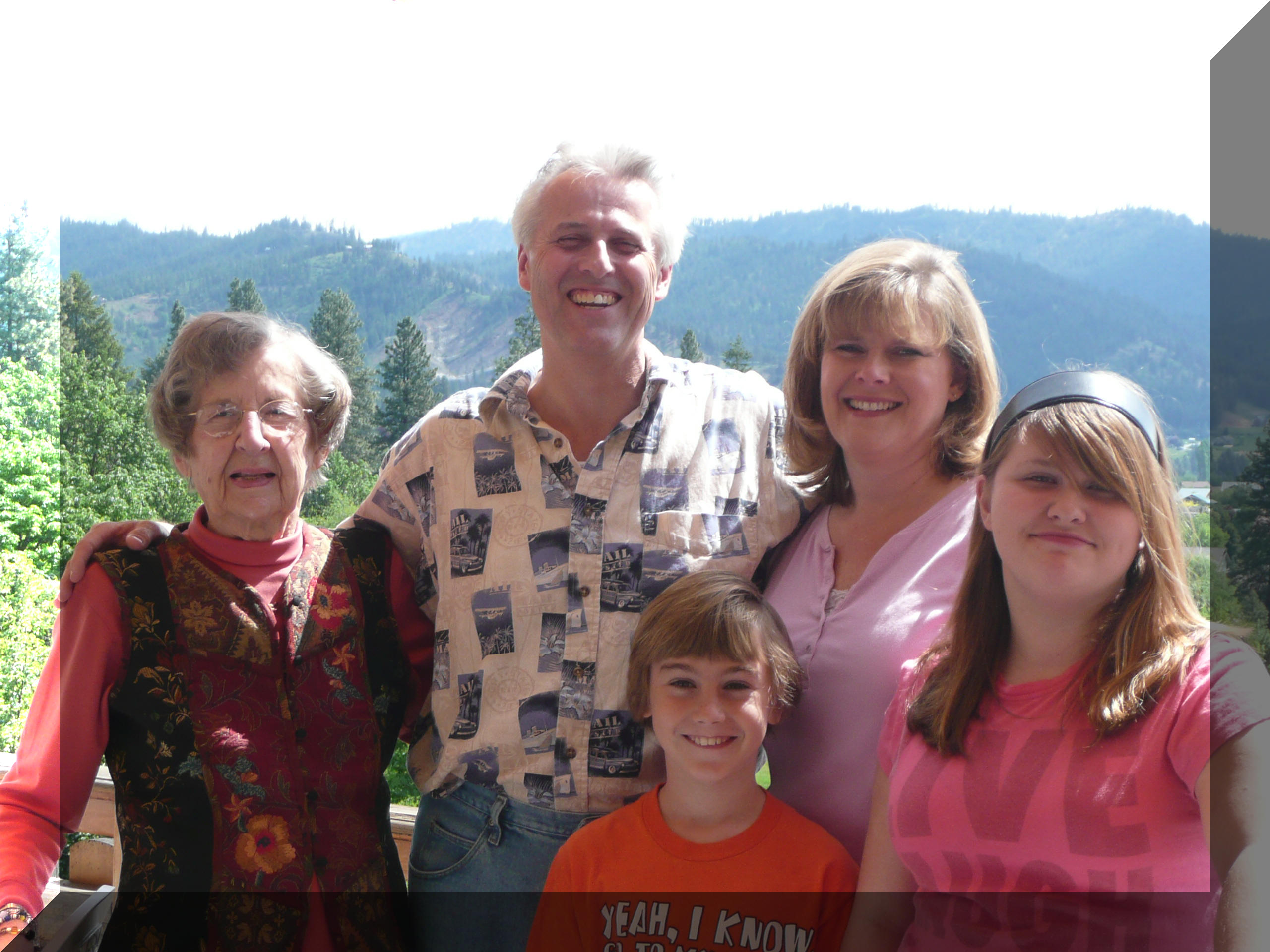 Us with Geraldine Rohrbach
Yes this is who started it all!! Whenever we had the chance to have Geraldine visit we always heard more good stories about the construction of Haus Rohrbach and life with 12 children. Mark, Christy and George came with Geraldine this May, 2008. Sadly Geraldine departed this life on April 30th 2011 and now looks over us and the Pension in addition to her 34 grand children and 43 great grand children. Now there is a family!!
vvvvvvvvvvvvvvvvvvvvvvvvvvvvvv

Welcome to Haus Rohrbach Pension!!
Your Innkeepers, Carol and Mike Wentink, and all the members of the staff want you to have a pleasant stay and hope that the following information will assist you and add to your enjoyment and relaxation. It is our goal to have you experience "gemutlichkeit" which is a German term meaning a place of coziness, snugness, joviality and kindness. Below you'll find some interesting tidbits about us and the history of Haus Rohrbach Pension.
The Bill and Geraldine Rohrbach family built Haus Rohrbach in 1975. It was built after Bill and Geraldine and their 12 children toured Europe for over 4 months and it was then that Bill and Geraldine decided that they wanted to build and operate an authentic representation of "pensions" found in the alpine regions of southern Germany, Austria and Switzerland. The word "pension" is a term used in Europe for a private hotel or lodging facility with a working farm ambiance or theme. After an extensive search for the perfect setting in locations such as Enumclaw, Issaquah and Fall City, the Rohrbachís settled on the scenic valley of Leavenworth. They, as well as many visitors from Europe, have discovered that the Leavenworth Valley looks remarkably similar to the Bavarian Alps. The Rohrbach family had a re-union here in January of 2001 and they brought pictures and memories to share with us and help assemble the history book of Haus Rohrbach Pension.
There are a few early year pictures of Haus Rohrbach at the this link: Early Pictures.
The previous owners, Bob and Kathryn Harrild, with several partners purchased the inn from the Rohrbach family in 1978. Sole owners since 1984, they remodeled, improved and added on to the main building and replaced the original small house with the beautiful new Alm Suites. The swimming pool and outdoor hot tub were added in 1982. The landscaping continues to evolve with more trees, shrubs, roses and wildflowers each year. Like most gardeners, we spend our fall and winter planning and envisioning ways to use the land to its best advantage. Within the next few years we will be planting a garden that was designed by Bob and Kathryn back in 1988. The gardens will be dedicated in their name, as the Harrild Gardens to carry on the legacy that Bob and Kathryn have created through years of hard work, dedication to true customer service and commitment to a unique vacationing experience. It is our hope that your memories and good times with Bob and Kathryn continue to grow with the gardens they designed with their creative touch. But most importantly, we want to ensure the close family atmosphere that has existed at Haus Rohrbach for so long, prevails.
The new Innkeepers, Carol and Mike Wentink, purchased Haus Rohrbach Pension from Bob and Kathryn on May 22nd 2000, moved in on June 13th and re-opened for business on June 16th. Mike and Carol came from Port Orchard Washington where Carol was a Homemaker successfully running a home-based scrap booking business. Carol has continued that career with her fall and spring scrap booking events. Mike is a graduate of University of Washington in Nuclear Engineering and has 21 years of work experience as a civil servant at Puget Sound Naval Shipyard in Bremerton Washington and another 7 years in the private industry. Like many of the guests at Haus Rohrbach, Carol and Mike have also been long time guests making the Icicle Fest weekend their yearly pilgrimage to Haus Rohrbach. As new owners, Mike and Carol are devoted to continuing the family friendly tradition of this historical inn and providing you with the most personal and traditional experience of hospitality while continually improving the service, recreation, ambience, and estate grounds for your relaxation and enjoyment. There are several other improvements in the planning stages focused towards enjoying more of the 13.5 acres that the pension encompasses and taking advantage of the breathtaking vistas of the Leavenworth Valley. Ask Carol or Mike about these plans or if you have any suggestions of your own share those also. Between your visits to Haus Rohrbach, visit our website throughout the year for more details and information on the progress of the planned improvements and activities during the seasons.
Now for a little information on the Leavenworth area. These Upper Wenatchee and Icicle River Valleys and surrounding mountains are quite similar to the Black Forest, Bavarian and Tyrolean valleys and mountains of Europe. In 1967 our small town decided to capitalize on this likeness and began the facelift that has made our village so beautiful and popular. You can read about the transformation of Leavenworth in the "Miracle Town" book by Ted Price available in the common area for reading or available for purchase by asking Carol or Mike.
Our property was part of an original homestead. The farmhouse on the corner of Ski Hill and Ranger roads was built in the early 1900's. Our irrigation water is obtained from a spring on Tumwater Mountain and is stored in the big reservoir on the south side of the inn. Our drinking water comes from a 130 FT. well and is clear, refreshing mountain water with just a touch of minerals. The Pension adorns the gateway to the hiking, biking and snow shoeing trails of Tumwater Mountain. Just behind the inn, a Forest Service road climbs all the way to the top-approximately 5 miles. It is a nice morning hike with changing vistas of the valley below. On a clear day, you can see as far as Crescent Bar on the Columbia River near Quincy. You may also drive, but we highly recommend a four-wheel drive vehicle or at least a car with a high wheelbase. There are several places on the hillside to spread a blanket and enjoy a spring picnic among the wildflowers. Ask us about our picnic lunch. We do need notice the evening before or at least two hours notice in the morning.
If you are an early riser, a morning walk or run around the Ski Hill Loop is a great way to begin your day. Go down Ranger Road to Ski Hill Drive and turn right to Pine Street. Follow Pine to Titus Road, turn left and follow the road as it completes the Loop. You can also go into town and stroll the path along the river and around Blackbird Island-an easy level walk. This path is a ski trail in the winter
We will be happy to answer any questions about the surrounding area and itís attractions. Brochures and guides are available in the front hall rack. Restaurant menus and recommendations can be obtained from a staff member and we are happy to make reservations for you if you wish. It is our hope that you, your children and your children's children remain or become part of the Haus Rohrbach family tradition.
Sincerely
Haus Rohrbach Pension
Innkeepers, Carol and Mike,
and staff, Mica, Barbara, Oscar, and the wild life
||
Rates
||
Suites
|| History ||
Rooms
||
Home
||
vvvvvvvvvvvvvvvvvvvvvvvvvvvvvv