vvvvv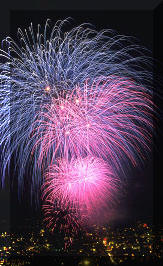 Fireworks Photo Caption
Also Carol and Mike can customize meals, flowers and wine selection to meet your needs and budget through prior arrangements and planning. Just call us and we'll help you plan a great event or create meaningful memories for your significant other or family!!
vvvvv

These are our best specials and our return Guests take advantage of these the most! These are special rates that are valid September through May (see exclusions below).
vvvvv
3 Nights for the Price of 2

Starting on Sunday night, stay for three consecutive nights and your third night is free.
vvvvv
Thrifty Thursday

Any Regular Room is $110.00 per night-double occupancy.

Any Family Suite is $140.00 per night-double occupancy.

Any Luxury Suite is $170.00 per night-double occupancy.
vvvvv
DISCOUNT EXCLUSIONS: Only one special or discount may be used at a time. Discounts do not apply during festival weekends, holiday periods and the months of December and June through August.
vvvvv